Audioboom shares plummet 27% after podcast specialist issues profit warning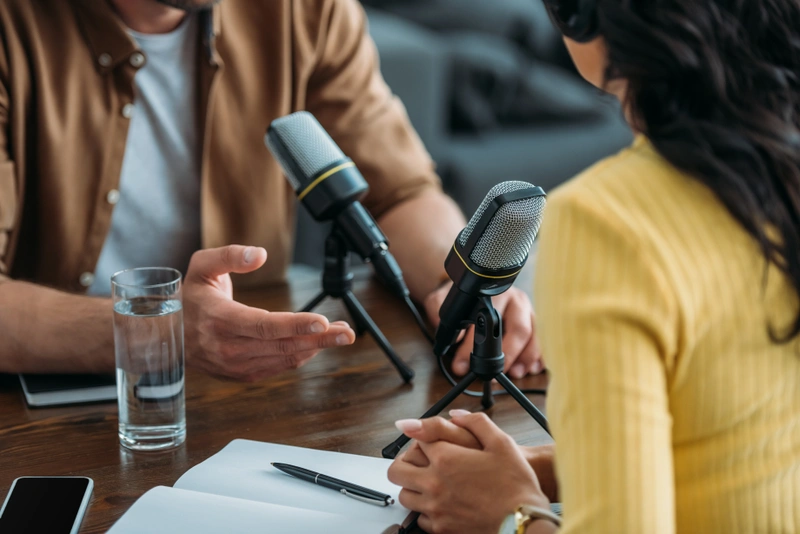 Two people recording a podcast/Adobe
Audioboom shares down over 51% year to date
Blames challenging advertising markets
Subject to Amazon and Spotify takeover rumours in the past
Shares in podcasting platform Audioboom (BOOM:AIM) fell over 27% to 206p in morning trading after the company issued a full year profit warning following challenging conditions in advertising markets.
Audioboom shares have almost halved year-to-date. The company was once an 'investor darling'. Having traded around the 155p mark in 2020 it rose to £22 in early 2022 when there was speculation subject to possible bid speculation from Amazon (AMZN:NASDAQ) and major podcasting player Spotify (SPOT:NYSE).
Danni Hewson, head of financial analysis at AJ Bell said: 'Hype has since turned to reality with the share price crashing back down as a key source of earnings has disappointed and investors question the edge Audioboom has on other podcast platforms.
'The advertising market continues to be weak as corporates watch their pennies for fear of an economic downturn, which means Audioboom once again cannot hit earnings forecasts.'
Audioboom expects revenue and adjusted earnings before interest taxation depreciation and amortisation (EBITDA) for the current financial year to be lower than previously anticipated.
The company added: 'We place our forecasts under review at this point and expect to re-establish forecasts at the first half results in mid-July.'
NEW RECORDS SET
There were some bright spots in the announcement, Audioboom said that new records were set for global monthly downloads in May 2023 – 135 million. Also Showcase, its automated advertising marketplace, recorded its highest ever monthly revenue total in May.
The company said business operations continued to 'improve significantly', with the company in a strong position 'to fully exploit future improvements in advertising market conditions'.
As of 31 May 2023, group cash stood at $5.2 million compared to $5.1 million as of 31 March 2023, with a further $1.8 million via an undrawn overdraft.
INVESTOR INTEREST IN PODCASTING WANING?
Audioboom's woes with making podcasts pay are shared by other parties. Spotify (SPOT:NYSE) is currently rethinking its 'big star' podcast strategy which might prevent 'cash burn' in the long-term.
Spotify recently announced it was axing its Prince Harry and Meghan Markle 12-episode podcast series Archetypes, which was rumoured to cost the audio giant $30 million when the pair signed up 2020.
In early June, Spotify announced its second round of redundancies, cutting 200 jobs from its podcast business.
Disclaimer: The author of this article (Sabuhi Gard) owns shares in Audioboom. Financial services company AJ Bell referenced in the article owns Shares magazine. The editor of the article (Tom Sieber) owns shares in AJ Bell.
Find out how to deal online from £1.50 in a
SIPP
,
ISA
or
Dealing account
.
---
Issue Date: 23 Jun 2023