FTSE falls sharply as global growth fears escalate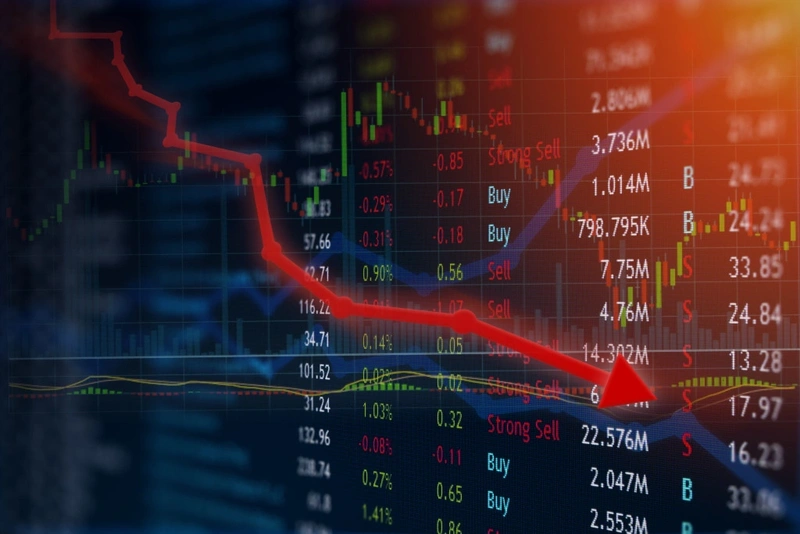 The FTSE 100 plunged deep into the red on Friday morning with central bank stimulus earlier this week seemingly failing to reassure stock market investors.
As the coronavirus continues to spread, investors are concerned about how negatively it could affect company earnings and global economic growth.
The UK's benchmark index dropped 1.9% to 6,577.52 as trading got underway.
It comes as Asian stock markets reacted negatively earlier in the day, with concerns over global supply chains one of the key concerns. Japan's Nikkei 225 fell 2.7%, the Hang Seng in Hong Kong down 2.3% and China's Shanghai Composite dropping 1.2%.
That followed big losses overnight in the US, with many major indices recording big falls. The S&P 500 posted a rare triple-digit drop, falling 3.4% or 106 points, to 3,023.94. The Dow Jones also fell dramatically, heading down 3.6% while the Nasdaq plunged 3.1%.
Oil prices were also hit with Brent crude futures down almost 2% to $49 per barrel. Gold on the other hand, as expected when volatility hits the financial markets, continued to rise and moved 0.6% higher to $1,676 per ounce.
In company news, cinema group Cineworld (CINE) slipped over 7% to 112p after it said it could postpone capital investment and cut costs, should the coronavirus outbreak continue to worsen.
The share-price fall came despite the company saying it had not yet experienced a material disease impact, having enjoyed a rise in admissions in the first two months of the year.
Pharma giant AstraZeneca (AZN) rose 0.9% to £75.71, even as it reported that a trial for a bladder cancer treatment failed to improve patient survival rates.
Previously reliant on certain blockbuster drugs in the past, AstraZeneca has diversified its portfolio of treatments in recent years, so a failure in any one drug wouldn't necessarily have as big an impact on earnings.
Two popular FTSE 250 investment trusts also reported today. Murray International Trust (MYI) lost 2.9% to £10.48 as it posted a positive annual performance that nevertheless missed its benchmark.
The trust delivered a share price total return of 16.5% in 2019 and a net asset value return of 12.4%, but this lagged the 21.1% total return from its benchmark, a split 60-40 split between the FTSE World ex UK index and the FTSE World UK index.
Alliance Trust (ATST) was also down, falling 2.8% to 746p even though it reported that its total shareholder return for 2019, standing at 24.3%, beat the 21.7% return delivered by its benchmark, the MSCI All Country World Index.
Insurer Aviva (AV.) fell 1.2% to 347.5p, on announcing it had agreed to exit Indonesia by selling its stake in PT Astra Aviva Life to joint venture partner PT Astra International, for an undisclosed sum.
Specialist bank PCF (PCF) was a rare shiner, gaining 3.5% to 31p, as its lending portfolio swelled 55% in the first five months of its financial year.
Meanwhile shares in Capita (CPI) slumped a further 18% to 63.8p after losing 38% yesterday as the firm revealed that net debt had soared and restructuring costs would be higher than anticipated.
FOR A LIST OF FTSE RISERS AND FALLERS SEE HERE
Find out how to deal online from £1.50 in a
SIPP
,
ISA
or
Dealing account
.
---
Issue Date: 06 Mar 2020