FTSE 100 pauses at midday after inflation boosts both sides of Atlantic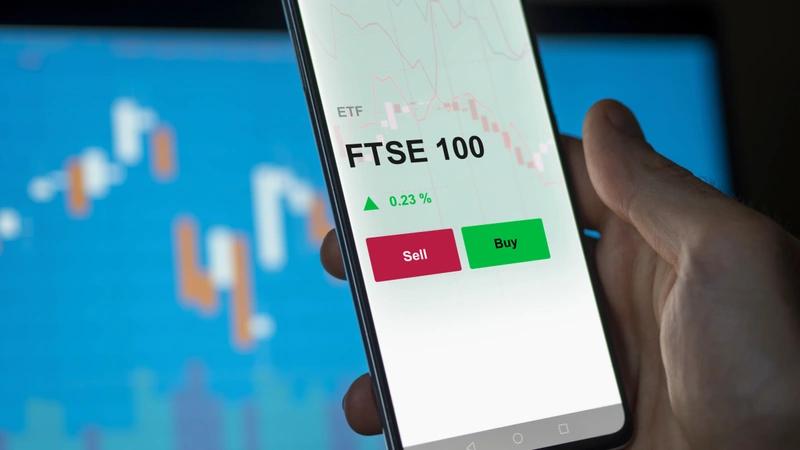 Burberry warning drags on sentiment in London / Image source: Adobe
Stocks in London went into Thursday afternoon in the red, with equities taking a pause for breath after solid gains driven by favourable inflation data on both sides of the Atlantic led to a growing conviction that rates have peaked.
Luxury goods firm Burberry, as well as oil majors Shell and BP, weighed on the FTSE 100. The owner of Royal Mail also suffered a share price fall, though Hotel Chocolat and City Pub surged after agreeing to buyouts.
The FTSE 100 index was down 34.90 points, 0.5%, at 7,452.01. It is still up 1.2% so far this week. The FTSE 250 was down 164.16 points, 0.9%, at 18,512.32, and the AIM All-Share was down 0.46 of a point, 0.1%, at 715.11.
The Cboe UK 100 was down 0.4% at 743.40, the Cboe UK 250 was down 0.8% at 16,017.91, and the Cboe Small Companies was up 0.3% at 13,326.85.
In European equities, the CAC 40 in Paris was down 0.3%, while the DAX 40 in Frankfurt was up 0.4%.
Sterling was quoted at $1.2401 at midday on Thursday, lower than $1.2448 at the London equities close on Wednesday. The euro traded at $1.0854, lower than $1.0864. Against the yen, the dollar was quoted at JP¥151.21, up versus JP¥150.91.
In the FTSE 100, Burberry was the biggest loser, plunging 10%.
The fashion company warned it is unlikely to achieve its annual revenue guidance amid a slowdown in luxury demand. Reporting on its half-year period to September 30, Burberry said revenue grew 3.8% on-year to £1.40 billion from £1.35 billion. Retail comparable store sales grew 10% at constant currency or 6% on a reported basis.
'The slowdown in luxury demand globally is having an impact on current trading. If the weaker demand continues, we are unlikely to achieve our previously stated revenue guidance for FY24,' the firm said. It had expected low double-digit growth for the year. This would have a knock-on effect on profit, which would be towards the lower end of the current consensus range of £552 to £668 million.
Burberry dragged shares in peer LVMH Moet Hennessy Louis Vuitton down 2.2% lower in Paris.
BP and Shell fell 1.4% and 2.0% respectively, amid downward pressure on oil prices.
Brent oil was trading at $80.97 a barrel at midday on Thursday, lower than $81.59 on Wednesday. Brent prices fell after it emerged the US had increased crude stockpiles by more than expected last week.
In the FTSE 250, Premier Foods rose 2.0%.
The food manufacturer, behind brands such Ambrosia, Bisto, Mr Kipling and Oxo, said in the six months to September 30, pretax profit jumped 38% to £58.1 million from £42.1 million a year prior.
Trading profit rose 19% to £67.5 million from £56.7 million. Revenue climbed 18% to £494.1 million from £419.9 million.
Looking ahead, the company said it made a good start in its third financial quarter, and for financial 2024 ending March 30 expects trading profit to be about 10% higher in financial 2023, when it was £157.5 million, 12% higher than £141.2 million in financial 2022.
Royal Mail owner International Distributions Services lost 2.0%, after reporting a widened interim loss as costs increased.
The company once again used the results to call for 'urgent' reform of its universal service mandate in the UK.
IDS said pretax profit in the half-year that ended on September 24 widened by 53% to £194 million from £127 million a year ago.
Revenue climbed 0.4% to £5.86 billion from £5.84 billion, trailing operating costs, which increased 2.3% to £6.10 billion from £5.97 billion.
Within that total, Royal Mail revenue fell 2.9% to £3.54 billion from £3.65 billion. By contrast, international package delivery arm GLS delivered a 5.9% revenue increase to £2.33 billion from £2.20 billion.
The company said it can not fund dividends until it returns to positive cash generation.
Great Portland Estates lost 4.8%, after its loss widened significantly in the first half, despite revenue ticking up, largely due to an increased deficit from investment property values.
In the six months that ended September 30, the London-based property developer said pretax loss widened to £253.4 million from £86.6 million a year earlier.
Revenue was up 9.4% to £47.6 million from £43.5 million, but deficit from investment property widened significantly to £219.7 million from £80.6 million. At September 30, its portfolio was valued at £2.3 billion, down 10%.
Looking ahead, it upgraded its rental value growth range for financial year 2024, which ends March 31, to 2.5% to 5.0%. In the first half, rental values were up 1.8%.
On AIM, Hotel Chocolat shares more than doubled to 364 pence, after closing at 139.00p on Wednesday.
The company said it has agreed to terms of a recommended cash acquisition by US multinational confectionery products manufacturer Mars. Hotel Chocolat's shareholders will receive 375p in cash for each share, a hefty premium to Wednesday's closing price, valuing the chocolatier at £534 million on a fully-diluted basis.
Another takeover object, City Pub Group, jumped 38%, though its probable new parent is a firm based closer to home.
Southern England and Wales-focused pub operator City Pub agreed on the terms of a recommended takeover offer with fellow AIM-listed pub operator Young & Co's Brewery.
The offer price of 108.75p represents a 46% premium to its Wednesday closing price, valuing the company at £162 million. The deal would expand Young's managed trading estate by 50 pubs to 279, with the deal expected to provide strategic, operational and financial benefits.
Young's shares were flat.
Stocks in New York were called lower. The Dow Jones Industrial Average and the S&P 500 index were called marginally lower, while the Nasdaq Composite was called down 0.2%.
Investors were also assessing developments on the geopolitical front, as the leaders of the world's two largest economies met in San Francisco.
US President Joe Biden and Chinese President Xi Jinping agreed to restore military communications at their first summit in a year, even as Biden went off script by saying he still considered Xi a 'dictator'.
The leaders shook hands and strolled in a garden at a historic California estate during four-hour talks aimed at preventing growing tensions between the world's largest economies from spiralling into conflict.
They also agreed that China would crack down on the production of ingredients for the drug fentanyl, responsible for a deadly epidemic of opioid abuse in the US. But Xi and Biden remained far apart on the wider flashpoint of Taiwan, with the Chinese president telling his US counterpart to stop arming the island and saying that reunification was 'unstoppable'.
Meanwhile, the US Congress passed a stop-gap funding bill to keep federal agencies running for another two months and avert a painful holiday season government shutdown – although the deal leaves out aid to war-torn Ukraine and Israel requested by Biden.
Gold was quoted at $1,965.78 an ounce at midday on Thursday, slightly higher than $1,962.09 on Wednesday.
Still to come on Thursday's economic calendar is the latest US jobless claims reading and an industrial production report from the world's largest economy at 1330 GMT and 1415 GMT.
Copyright 2023 Alliance News Ltd. All Rights Reserved.
Find out how to deal online from £1.50 in a
SIPP
,
ISA
or
Dealing account
.
---
Issue Date: 16 Nov 2023